The Wednesday Word is a leaflet that the children take home each week. We want to share the Good News of the gospel with all our families, so we hope that you will be able to spend some time as a family reflecting on the Gospel story and completing the activities and ideas which are on the leaflet. Traditionally, Wednesdays were a time when families "took time out" and shared time together within the busy working week.
To find out more, click on the image below: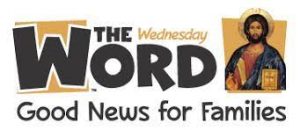 In the weekly newsletter the Head Teacher will often repeat the message from the Wednesday Word at the top of the weekly message.