Sacred Heart Catholic Secondary school in Redcar is partnered with Ayensudu School in Ghana.
There have been many teacher and student visits over the past few years with the benefits from both sides being fantastic and in many cases life changing. Over the past week, Dr. Tindall from Sacred Heart Secondary, Mr. Lewis from St. Benedict's primary and Miss Horton from St. Joseph's primary have been educating the local community of Ayensudu in Ghana on the effects of plastic in the environment.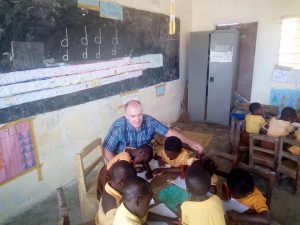 Due to all drinkable water being in bags, they are supporting the Ghanaian people with a new project to recycle the plastic into fashionable bags which they can then sell. Students from Sacred Heart will be returning in October to construct recycle bins.
The NPCAT staff have also been working in the local school and have taken out many pens, pencils, additional stationery, and teaching resources, as well as football shirts, all of which have been donated from students, family, and friends of our local community. Many thanks for your generosity.