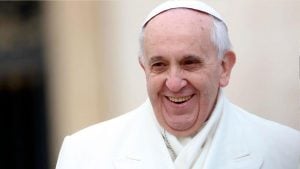 Pope Francis (born Jorge Mario Bergoglio 17 December 1936) is the 266th and current Pope of the Roman Catholic Church, a title he holds ex officio as Bishop of Rome, and sovereign of Vatican City, as well as current de facto Prince and Grand Master of the Sovereign Military Order of Malta.
He chose Francis as his papal name in honour of Saint Francis of Assisi. Francis is the first Jesuit pope, the first from the Americas, the first from the Southern Hemisphere and the first Pope from outside Europe since Syrian Gregory III, who died in 741.
Born in Buenos Aires, Argentina, Bergoglio worked briefly as a chemical technologist and nightclub bouncer before beginning seminary studies.
He was ordained a Catholic priest in 1969, and from 1973 to 1979 was Argentina's provincial superior of the Society of Jesus.
He became the Archbishop of Buenos Aires in 1998 and was created a cardinal in 2001 by Pope John Paul II.
He led the Argentine Church during the December 2001 riots in Argentina, and the administrations of Néstor Kirchner and Cristina Fernández de Kirchner considered him a political rival.
Following the resignation of Pope Benedict XVI on 28 February 2013, a papal conclave elected Bergoglio as his successor on 13 March 2013.